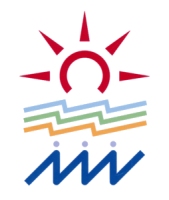 In March 1955, Seiro Village and Kameshiro Village joined together to form Seiro Town. From that time, it was a long outstanding promise to the townspeople that the two junior high schools, Seiro J.H.S. and Kameshiro J.H.S., would be merged. Gradually, in March 2001, the two schools closed, and in April a new Seiro Middle School was built, and with it, a new school system began.

The design to the left is the school crest, created by Hisao Kouyama, one of the school designers. The motifs were the nature of raising and supporting its people, the big skies, and the ocean. The first layer represents the sun; the second layer represents the Niigata plains, and the wide, abundant winds that blow against it; and the bottom layer expresses the sea. The three colours of the plains layer represent the changes in colour of the rice paddies during the year.

As for the school's feature characteristics, there is a subject center system and a computer system, which were both built into the archetecture of the school from the beginning. It was also designed to be a school open to the region.